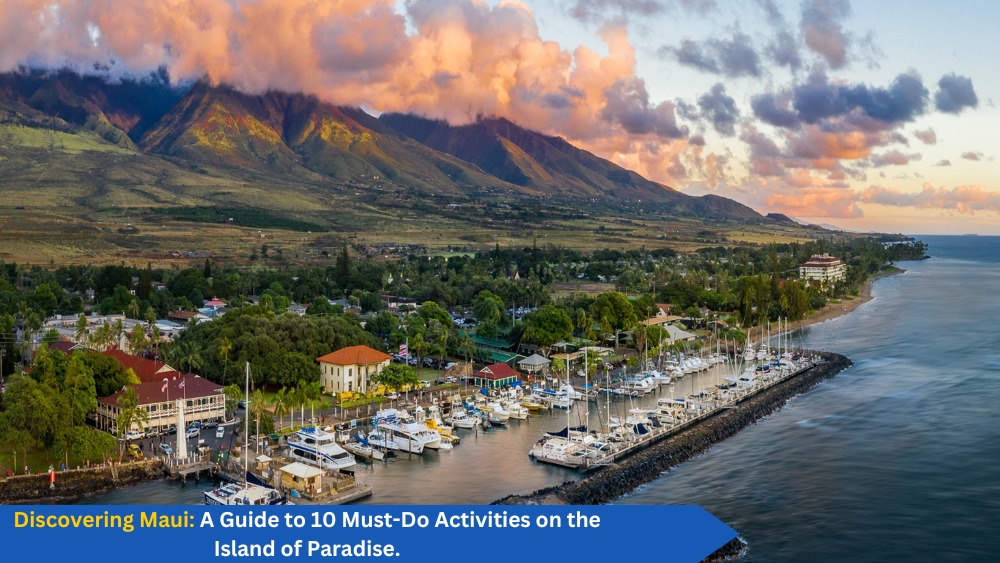 Maui is the second largest island of Hawaii, known for its stunning natural beauty and rich culture. Maui is a paradise for adventure enthusiasts, nature lovers, and beach bums.
From its stunning beaches and lush rainforests to its world-renowned surf spots and breathtaking waterfalls, there is truly something for everyone on this island.
Let's explore some of Maui's most stunning and secret spots, which will make your Hawaiian vacation an unforgettable experience.
1- Secret Black Sand Beach: Sun Bathing & Relaxing
The Secret Black Sand Beach, located on the southern coast of Maui, is one of the island's hidden gems. This beach is known for its unique black sand, created from volcanic activity, and its peaceful, serene atmosphere.
The black sand absorbs heat quickly, making it the perfect place for sunbathing and relaxing. The beach is surrounded by towering cliffs, providing a breathtaking backdrop for your day at the beach with friends or family.
While the Secret Black Sand Beach may be a bit off the beaten path, it is worth a visit for its breathtaking beauty and unique experience.
2- Hiking In Bamboo Forest
The Bamboo Forest, located near Hana, is a magical and serene destination. This dense forest of towering bamboo plants provides a peaceful escape from life's daily hustle and bustle and immerses you into island life.
As you hike through the forest, the gentle rustling of the bamboo leaves and the sound of the wind create a truly unforgettable experience. The Bamboo Forest is a must-visit for nature lovers and anyone looking for a peaceful escape from the more touristic crowded places on Maui.
3- Paako Cove: Snorkeling & Swimming
Paako Cove is in the Wailea area of Maui. It's another hidden gem that provides a unique experience for beachgoers.
This cove is surrounded by rocks, which create a natural barrier and protect the beach from strong waves, making it the perfect place for a relaxing day by the ocean, especially with young kids.
The clear, turquoise water is ideal for snorkeling, swimming, and sunbathing. Paako Cove is a great spot for a more intimate, uncrowded beach experience.
4- Visiting Nakalele Blowhole
The Nakalele Blowhole is located on the northwest coast of Maui. It's a natural wonder that is a must-see for anyone visiting the island. The hole is n a volcanic rock that shoots water into the air with great force, creating a truly spectacular sight.
While the blowhole can be difficult to reach, the journey to get there is well worth the experience and stories you will be telling your friends.
5- Waioka Pond: Hike, Swim & Relax
Waioka Pond, also known as "Venus Pool," is a natural pool near Hana. The pond is set amidst a dense tropical forest, surrounded by jagged cliffs and rolling hills.
Visitors must hike down a steep, rocky path that winds through the jungle. The turquoise water is crystal clear and extremely inviting, and visitors often come here to swim and soak up the sun.
The locals claim that Waioka Pond has healing properties, with the cool waters soothing and refreshing the mind, body, and soul.
6- Private Surfing Lessons
Maui is one of the world's premier surfing destinations, offering some of the best waves in the Pacific. Whether you're a seasoned surfer or a complete beginner, there are plenty of opportunities to catch some waves in this tropical paradise.
Take a private surfing lesson and learn from the pros; you might become one yourself! They will guide you through the basics of surfing and help you catch your first wave in no time.
7- Outrigger Canoe Surfing
If standing up on a surfboard isn't your thing, we have something else that you might like. Outrigger canoe surfing is a unique and thrilling experience for any adventure seeker.
This ancient Hawaiian tradition is a blend of surfing and canoeing performed on a six-person canoe called an outrigger. The canoe is equipped with an "ama," a stabilizing float, which allows surfers to ride the waves with grace and stability.
Maui is the perfect place for outrigger canoe surfing, with its warm waters and an endless supply of big waves. The sport is enjoyed by locals and tourists, who come from all over the world to experience the thrill of surfing while surrounded by the stunning scenery of the Hawaiian Islands.
8- Scuba Diving: Explore Marine life, Turtles & more
For those who love to explore the underwater world, Maui offers some of the best scuba diving opportunities in the world. The island's clear warm waters and diverse marine life make it a perfect destination for diving enthusiasts.
One of Maui's most popular scuba diving sites is the Molokini Crater, a partially sunken volcanic crater that serves as a natural marine preserve. Divers can expect abundant colorful fish, sea turtles, and reef sharks.
The pristine waters of the crater make for excellent visibility, and the calm conditions make it an ideal site for all levels of scuba diving experience.
If you are interested to dive in Maui waters, learn Scuba Diving, you can check In2Scuba diving "Beginners Scuba Diving Lessons", or Private Scuba Diving lessons.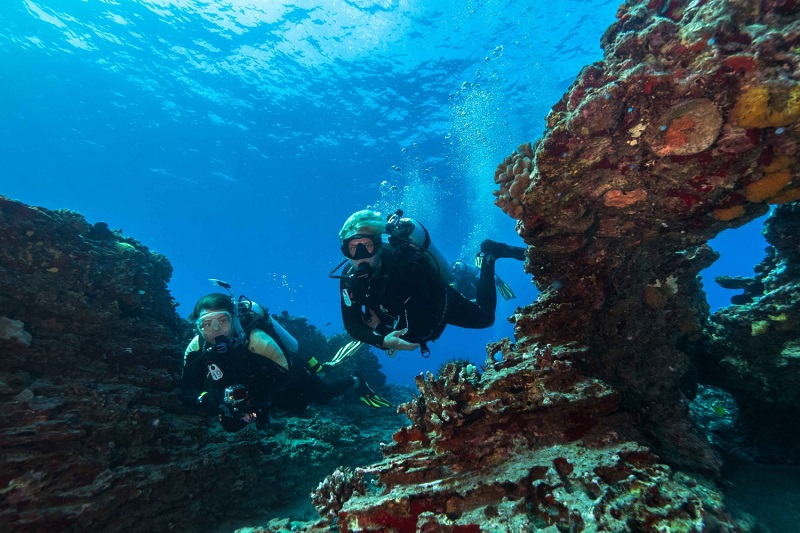 9- Hiking Waimoku Falls
For a truly breathtaking outdoor experience, hike to Waimoku Falls. The waterfall in the Haleakala National Park provides a stunning view of the surrounding landscape.
The trail is well-marked and easy to follow, but it can be steep and slippery in some places, so hikers are advised to wear sturdy shoes and bring plenty of water.
During the hike, you will cross several streams, which can be deep and fast-flowing. Once you reach the falls, you'll be rewarded with a gorgeous 400-foot waterfall that cascades into a large pool surrounded by green foliage. The water is cool and crystal clear, making it the perfect place to swim after a long hike.
The mist from the waterfall creates a perfect environment for a variety of exotic plants and animals, such as tropical birds, orchids, and ferns, making it a photographer's paradise.
10- Explore The Lahaina Historic District
Located on the island's west coast, this historic town is a treasure trove of Hawaiian culture and history, with a rich heritage dating back to the early 19th century. In its heyday, Lahaina was a thriving hub of commerce and a major port, serving as a trade center between the United States and the Pacific Islands.
Today, the town has transformed into a thriving tourist destination, offering a mix of historic landmarks, charming street scenes, and plenty of shopping, dining, and entertainment opportunities. One of the Lahaina Historic District's most notable features is its preserved architecture, including whaling captains' homes.
Many of the town's original structures, such as the Baldwin House, the Lahaina Courthouse, and the old Lahaina Prison, have been meticulously restored, giving visitors a glimpse into the town's rich history.
Check Infographic for The 10 Must Do Activities On Maui, Hawaii (Click to enlarge)
: