This video of Mala Wharf shows you some of the Sharks, and many Green Sea Turtles that live at this Wreck Dive. This dive site is  located in Lahaina, Maui just off the north side of Front Street.
We're one of a very few legally permitted to take divers to
Mala Wharf
Mala Wharf Pier located in west Maui Lahaina, has the best chances to see sharks and Turtles of all the dive sites on Maui. There is about a 75% chance to see sharks any time of year. They are the nocturnal and very shy White Tip Reef Sharks. We find them resting on the ground underneath alcoves. This makes them easy to find resting during the day. White Tips are one of the few sharks that can remain motionless. Most sharks have to swim in order to pass water over their gills. But the White Tip Reef Shark can pump the water through their gills using their mouth.
Here's an interesting picture of Mala Wharf Pier two in 1940 during World War Two in Maui, long before before it collapsed in 1992 during Hurricane Iniki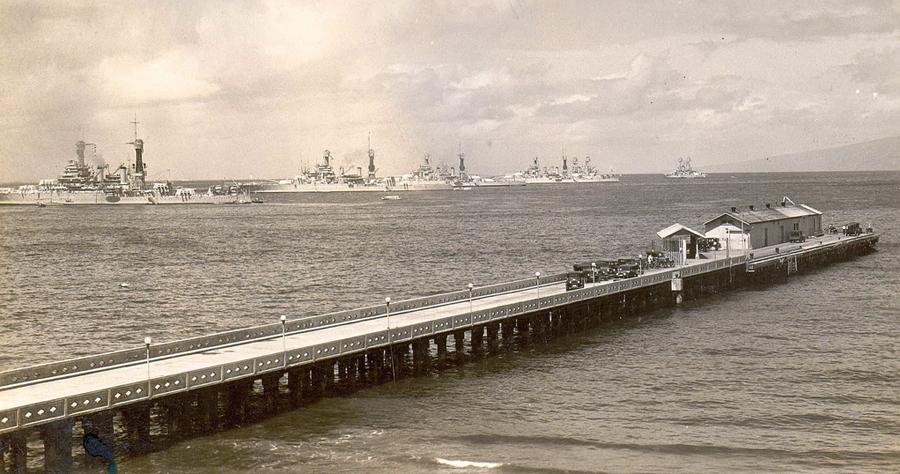 No need to get on a crowded dive boat and spend half the day traveling. This is a shore dive and only would take up 1.5 hours of your time. Located in Lahaina and close to all the hotels and resorts. Call for more info. We love to dive and talk about this dive site.
Make sure to bring your GoPro, or rent one of ours to get some great video footage of the sharks at this wreck dive in Lahaina.