Shark Diving in Maui is a highly requested dive. Fortunately Maui does have a couple shark dive sites where you can encounter White Tip Reef Sharks at Mala Wharf. This is by far best place to see sharks in Maui due to the frequency we see sharks and the amazing topography & sea life. Also called Mala Pier. This shark dive is located off Front Street in Lahaina Maui, only a 10 minute drive from the hotels in Kaanapali. The sharks can be seen on average 70 percent of the time here. This is an easy shore dive off Front Street in north Lahaina, Maui. Intro beginner scuba divers are welcome to dive with the sharks on their second dive. This is due to the site having obstacles, and we want to make sure our first time divers are stable in the water before they dive there.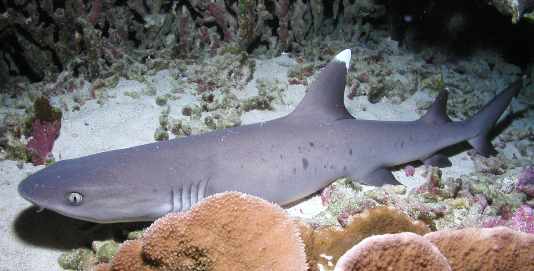 Scuba diving with sharks in Maui is a real thrill for all our divers, and the sharks are easily found resting under the wreckage at Mala Wharf. When scuba divers approach the sharks, they will swim around for a bit and then come back to the spot they were resting. We usually get about 1 to 8 sharks when diving Mala Wharf.
Lots of Hawaiian Green Sea Turtles call this dive site home as well.
Check out our prices and give us a call to book your shark/turtle guarantee dive.
Shark Dive In Maui.... Book it today!!!
Maui Shark Dive in Lahaina Kaanapali