Scuba diving is a an easy and thrilling sport that almost anybody can enjoy. Just picture yourself deep diving into the warm water, discovering coral reefs, and experiencing this amazing world from a fish's perspective. It's a fantastic method to discover new things about the undersea environment.
This article is for you, if you want to try scuba diving but don't know where to begin. We will teach you all there is to know about scuba, including diving equipment, methods, safety measures, and hazards, and anything else that will help you learn to dive.
What is the Meaning of Scuba Diving?
Almost everyone has heard of the word scuba or under water diving. It is an abbreviation for Self-Contained Underwater Breathing Apparatus. Scuba diving is the practice of diving underwater to explore the ocean. It comes in a variety of forms. However, most individuals engage in scuba diving as a leisure sport when traveling or on vacation.
To discover great dive spots, recreational divers frequently dive from the shore or dive boats. Recreational divers use scuba tanks for breathing underwater and observing the ocean's beauty and inhabitants.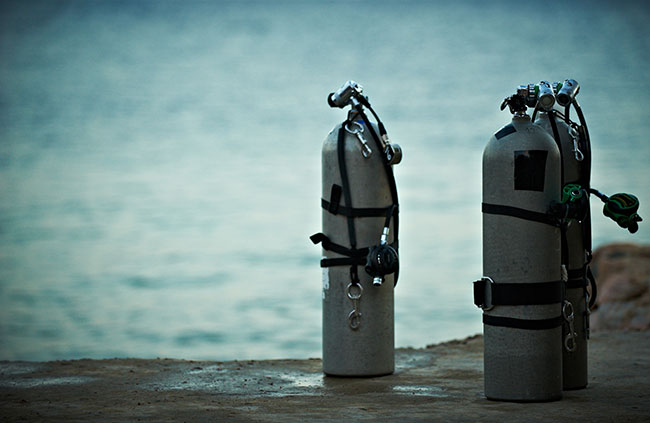 The undersea environment is stunning, and many people go scuba diving in the Red Sea, Asia, or the Great Barrier Reef, which are among the world's top scuba diving destinations. People find themselves coming time and time again to these sites because the marine life is so breathtaking.
Before You Go on Scuba Diving
Before you can start learning to dive, you must sign a medical statement. If you've never scuba-dived before, and think you may have some medical concerns preventing you from diving.
You should have a medical check in your home country to ensure your fitness. If you are normally healthy and fit, there shouldn't be any issues. If needed, we have the forms available for you to give to your physician, to release you for scuba diving.
If you're already qualified to dive, stay away from the water if you're not feeling well. Don't dive, especially if you're sick or have been drinking. Save the celebration till the end of your diving expedition.
 Get an open water diver certification.
Depending on the type of dive, some dive operators ask you to confirm your scuba diving certification. Always obtain your scuba certification from a certified dive operator before you leave for your vacation or before you begin diving.
You won't be covered by travel insurance if you dive without a certified diver or if you dive without a scuba diving certification.
Follow Your Scuba Instructor
No matter how experienced you are, you must pay attention to your teacher Instructor/Divemaster or guide while on the diving boat. The best scuba diving approach is to learn the fundamentals of diving through diving lessons. Make sure you are aware of what you are putting yourself into before deciding to dive.
You must adhere to your instructor's directions on where you're going, what to look out for, and how you'll get there.
 Test Your Diving Equipment
Certified divers: Before diving, it's crucial to check that your scuba diving gear is in good condition. You must be familiar with your gear before embarking on a scuba dive.
Make sure your wet suits fit properly and are comfortable if you intend to wear them. As soon as you get your scuba diving equipment, test it out and see how it feels to wear it.
It's time to put your gear to the test in the water once you've become used to wearing it. The easiest approach to determine how well you will handle the pressure is to dive into the shallow water first.
You must feel at ease performing your first dive in the open sea with an underwater breathing device.
– Before you indulge in the wonders of deep sea diving, here are some commonly asked questions regarding scuba diving:
1. Is scuba diving good for your health?
The golden rule of diving is to take deep breaths and exhale slowly. This heart-healthy workout keeps the blood circulating without exerting undue pressure on the cardiovascular system. As a result, scuba diving is a fantastic respiratory exercise.
2. Is scuba diving hard for beginners?
Scuba diving is just as safe and simple to learn as any other outdoor physical activity after you've received the necessary instruction.
You should be alright if you abide by the safety precautions and dive with a professional or if you are certified, with another certified dive buddy.
While you glide around admiring the underwater scenery, only three fundamental abilities are used: kicking, breathing, and floating.