With its beautiful beaches, fun water sports, and lush scenic drives, Maui is one of the top tourist destinations in Hawaii.
In one place, you can learn to surf, go wine tasting, snorkel with sea turtles, attend a luau, relax on the beach, visit a national park, and rappel down a waterfall.
It's safe to say Maui is an incredible place to visit – it's considered the "most fun" Hawaiian island, and it's easy to see why. But with so much to see and do, it can be challenging to decide. Below, we'll cover the best things to do in Maui, Hawaii.
Maui Hawaii has got to be the best island to visit when looking for things to do in Hawaii. With its pristine coastal vistas and numerous white sandy beaches. You will will never fall short when looking for things to do here.
Things to Do in Maui Hawaii
Here are the x best things you can do in Maui, whether this is your first visit or you're returning for more fun and relaxation.
1. Relax on the Beach
No vacation to Maui would be complete without visiting at least one of the many beaches. With over 120 miles of stunning coastline, the list of Maui beaches is long. Some of the best beaches to visit are:
Kapalua Bay Beach – Perfect for snorkeling, swimming, and paddle boarding.
Ho'okipa Beach – Best for spotting sea turtles and surfing.
Polo Beach – Ideal for boogie boarding, snorkeling, and swimming with kids.
Big Beach – Great for swimming and sunbathing.
Black Sand Beach – Good for sunbathing and beach gazing.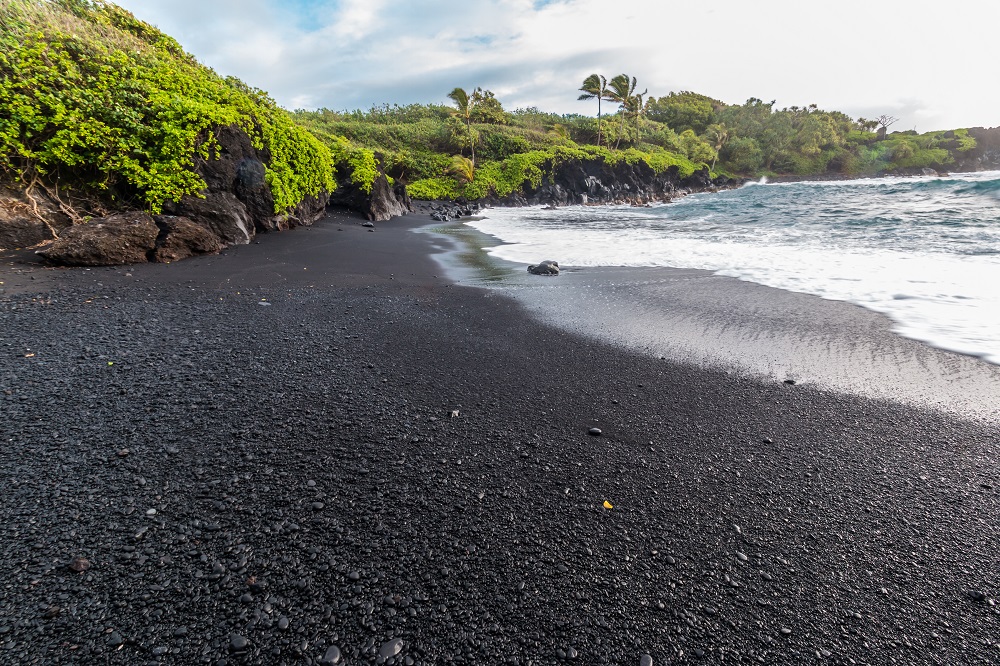 2. Watch a Sunrise or Sunset from Haleakala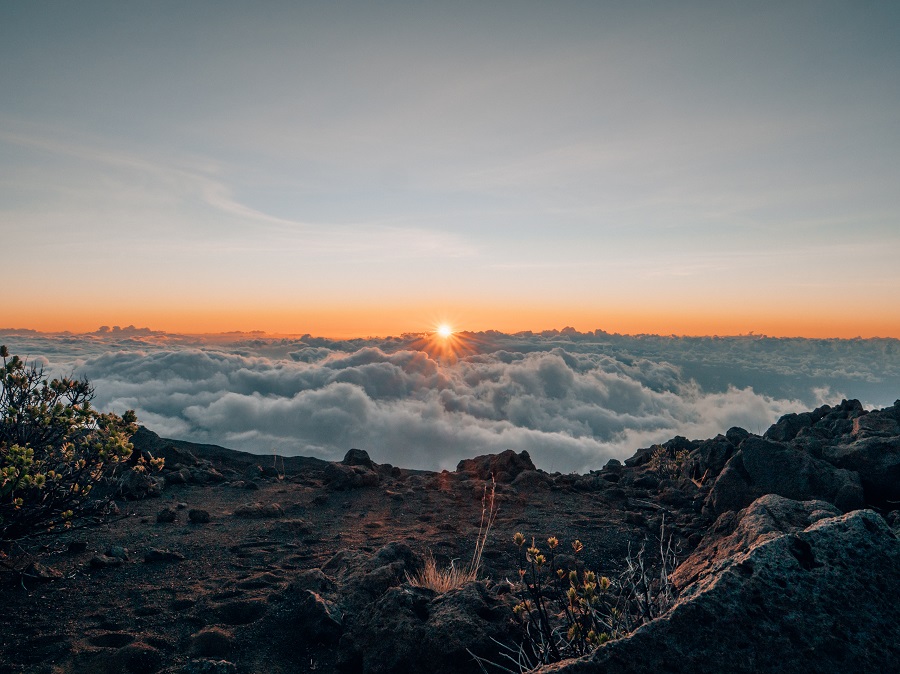 There's no better way to watch the sunrise or sunset than from the top of Haleakala – above the clouds! Of course, seeing the sunrise involves waking up very early.
It takes around 1.5 – 2 hours to reach the top of Haleakala, so if sunrise is at 6.30 am, you must leave your accommodation by 4.30 am. But it's well worth the effort!
The sunrise viewing requires an advanced reservation (it's THAT popular), but the sunset viewing doesn't. Sunset is much less crowded and a great way to enjoy views around the island.
3. Attend a Luau
Nothing says "Hawaii" quite like a luau, so going to one is essential when visiting Maui.
You can enjoy the vibey, live music, eat traditional food, and go on a cultural journey through Hawaii. Plus, watching the hula girls dance and move to the beat of the drums or watching a fire-dancing show will be an unforgettable experience
4. Check Out Iao Valley State Park
This park is in central Maui and is home to Kuka'emoku, the Iao Needle. Hawaiian culture sees this as the phallic stone of Kanaloa, who was the god of the ocean. The cliffs in the park were also once used as the burial site for Hawaii's royalty. Visiting the park to see the Needle is quick – it's located at the end of a 1-kilometer trail.
5. Snorkel Around the Island
One of the top activities to do in Maui is snorkeling. You can do it as part of a tour or by yourself if you hire a snorkel. Maui has dozens of locations ideal for snorkeling. Here are a few of the best snorkeling spots:
Molokini Crater – Perfect for beginners, and you can see a variety of fish.
Turtle Town – Great for those wanting to swim with sea turtles (also plenty of fish).
Honolua Bay – Quiet cove, calm waters, and a beautiful reef teeming with ocean life.
Kapalua Bay – One of the best snorkel locations and beaches.
Of course, you can enjoy a great snorkeling experience at just about any location on the island, so ask around.
6. Stroll Along the Kapalua Coastal Trail
Probably one of the most underrated Maui experiences, this short 1.76-mile walk is something anyone will enjoy.
The trail takes you past a few stunning beaches, tidepools, luxury resorts, and breathtaking views of Maui's coastline. The trail starts at Kapalua Beach and finishes at D.T. Flemings Beach and alternates between sandy trails, boardwalks, and sidewalks.
7. Watch the Whales
Humpback whales, on their migration route each year, travel to the Hawaiian islands during winter months for their mating season.
The crystal clear, shallow water between Moloka'i, Lana'i, and Maui are the prime spots to see whales in winter between November and May. Peak whale watching season is from January to March.
8. Discover Dragon's Teeth
While walking the Kapalua Coastal Trail (#6 above), you can visit Makalua-puna Point. Lava has eroded the earth so much that a series of pointed spires have been left behind. They line up so that they look exactly like dragon's teeth.
If you keep walking towards the point, you'll find a massive circle maze called the Labyrinth that you can walk through. At Makalua-puna Point, you can snap a few awesome pictures of the rocky volcanic coastline as the surf smashes into the rocks. Fancy a round of golf? You can enjoy a morning or afternoon in the sun at the local golf course – with a view!
9. Visit the Nakalele Blowhole
The Nakalele Blowhole is located along the robust volcanic coastline in northern Maui on Nakalele Point. The blowhole often "erupts" when the waves hit the shore, sending water shooting out the hole. It looks like a natural geyser as the water shoots several feet through the air.
You can view the blowhole from the bottom of the hill or the top of the cliff. You'll need to walk down the slippery, steep, sandy path to get to the coast. Ensure you maintain a safe distance from the blowhole – if you get too close, you may be sucked into the blowhole by a wave.
10. Go to the Maui Ocean Center
Opened in 1988, the Maui Ocean Center has educational exhibits and programs that teach visitors about local sea life. You can learn about sea turtles, Hawaiian coral, hammerhead sharks, and reef fish. Plus, you can check out the Sphere, an awesome 3D experience where you can swim with humpback whales.
11. Rappel Down a Waterfall
Are you looking for a bit of adventure that envelops you in Maui's natural beauty? Rappelling down a waterfall is for you! You can explore tropical rainforest cliffs and freshwater pools as you hike to the waterfall location. Then you get up close and personal with the rock face of the waterfall as you lower yourself down. Thrilling!
12. Go Ziplining
If you feel like soaring over Maui's green valleys and lush forests, you can go ziplining. Depending on which company and tour you choose, you'll be in the treeline for two to four hours, enjoying a bird's eye view of the island. Each company offers unique zipline options, from amazing hikes and breathtaking views to racing your friends or family and enjoying extra-long zip line rides.
13. Try Hawaiian Shave Ice
Much like a luau, eating Hawaiian shave ice is a must-do in Maui. While shave ice was originally started in Japan, it was brought to the islands in the 1900s. The ice is shaved to be super fine, resembling snow. Then a flavored syrup is poured over the ice, and it's served with ice cream. If you feel adventurous, top your shave ice with condensed milk, toasted coconut, or Li Hing Mui powder.
14. Scuba Dive Around the Maui Island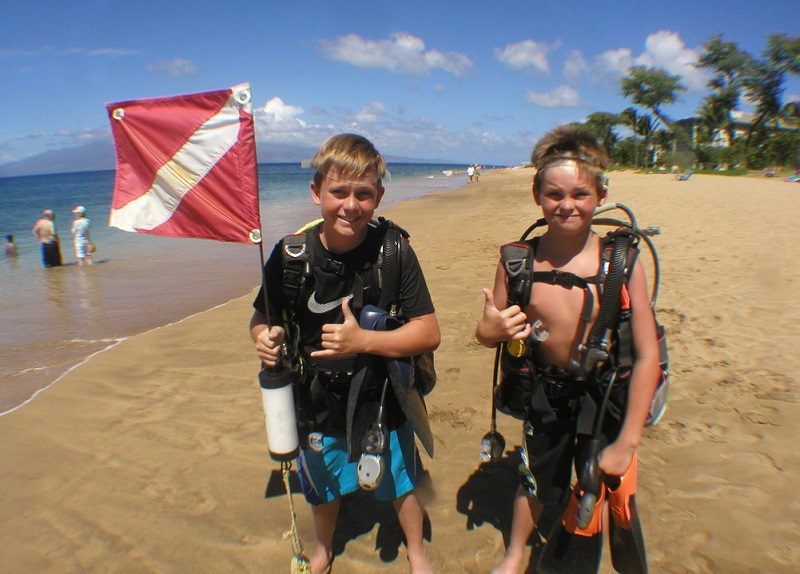 A trip to Maui wouldn't be complete without scuba diving around the island! You can see various sea life and Hawaiian green sea turtles all year round along Maui's southern and western coastlines. As you scuba dive, you can watch the sea turtles eat algae deposits, rest on the seafloor, and surf to take a breath of fresh Hawaiian air.
You'll also be able to explore the volcanic lava shoots, archways, and caverns. The best months to scuba dive in Maui are from April to October, and you'll be able to see everything from sea turtles and manta rays to monk seals to sharks. If you are looking to learn scuba diving, check out our award winning Scuba Diving For Beginners Course.