Maui's SAFEST Scuba Instructors & Small Family Style Diving Company
Scuba Instruction in Maui
There is one scuba instructor in Maui that has the most experience and specializing in beginners and Introductory Scuba Diving lessons, and shore diving in Maui. PADI scuba instructor Ty. Scuba Instruction and tours are done in Lahaina, Kaanapali Maui. Small, private scuba classes and tour groups is our rule for a much better and safe scuba experience. We will NEVER take you further than your comfort level. You pace yourself. Ty takes a lot of pride in being very patient training divers, having a safe & seriously fun time, for an optimal learning experience. Our goal is to have guests enjoy the rewards of scuba diving in Maui and its beautiful reefs. Respecting the sensitive ecosystem. Our staff of fish & marine life naturalists are always available to answer any of your questions. 30% of the sea life in Hawaii is endemic and scuba diving in Maui is the best way to interact with the reef fish. Come and join the adventure and fun of diving Maui with us, and see why we are rated the number one scuba company in Lahaina, Kaanapali.
Maui Scuba Instructor Ty
Born in London England, I spent most of my life in San Jose California.
"I Started Diving in Monterey Calif in 1997 and was hooked from that point on. I worked through the ranks to become a Divemaster & fell in love with working with students in the challenging cold, low visibility of Monterey Bay and beyond. Then pursuing a dream of Underwater photography. I Started shooting anything and EVERYTHING. On a scuba trip to Maui I decided to become an instructor and went back to Cali to pursue a new career with my passion to teach, dive and shoot photos. I became a Master Scuba Diver Trainer and moved to Maui in 2001″.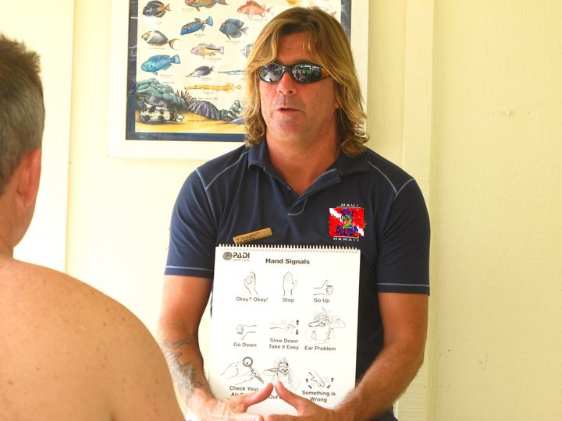 Ty has worked on different dive boats and Hotels where his talents shined. Well known as a patient, knowledgeable easy going and very funny instructor. Building such a strong clientele base. Past customers were calling and only wanting to book with Ty. This is when he decided to go for it and start In2Scuba Diving Maui Dive Co." Since then it has been a snowball effect of divers passing on the word to dive with Ty.
Tripadvisor things to do in Kaanapali reviews started coming in with people raving about Ty's abilities as an Instructor and underwater Photographer. Check out the reviews on the Tripadvisor link on the left of page Or above on mobile
Professional Scuba Instruction Certifications/Accomplishments
Master Scuba Diver Trainer
Specialty Instructor (12 Different Specialties offered)
Emergency First Response Instructor
DAN 02 For Diving Injuries Instructor
SDI Instructor
NASE Instructor
Underwater Photographer
Maui Scuba Instructor Deborah
Scuba Diving Instructor in Lahaina, Kaanapali Maui
Having lived in places such as Malaysia, California, Thailand and Bali, Deborah has acquired an incurable ocean addiction.
She had her first taste of the scuba world in the Perhentian Islands, which set her off exploring the seas of Malaysia, Thailand and Indonesia. With a background of 9 years' teaching experience, the choice to become a Scuba Instructor was an obvious one for her. She chose to become a dive professional in Nusa Lembongan, Bali to hone her teaching and guiding skills in the strong currents and exhilarating diving conditions
Divers often express their appreciation of Deborah's humour and fun energy as well as her calm patience and thorough attention to safety.
She is now being treated for her severe scuba diving dependency on the shores of Maui.
Scuba Instruction Certifications/Accomplishments
Scuba Instructor
Specialty Instructor
Emergency First Response Instructor
SSI Scuba Instructor