Children Can Scuba Dive in Maui Too.
$129.00
Kids Scuba Diving in Maui??? Well, YES… That is our specialty!!! Children ages 10 and above are more than welcome to dive into our Intro Scuba Course here on Maui's beautiful reefs. We will take the kids on a very SAFE, FUN and informative diving experience. An adventure of of a lifetime!!! As long as they are strong enough to carry 25 pounds back pack style about 50 yards. They must be able to pay 100% attention to the scuba instruction that lasts approximately 30 minutes. Kids-Scuba-Diving-Maui-Kaanapali-LahainaThe dive itself lasts about 30 – 40 minutes in shallow water. First time Introductory scuba divers, including kids, can go to a maximum of 40 feet. That does not mean we will go to that depth. We will make an assessment at the surface and while in the water as to the kids comfort and SAFETY. If they are performing well, and only if they WANT to get deeper, then we will. Scuba certified parents, friends, family are welcome to join in with the kids on their dives. All participants must be able to swim to scuba dive. Not an athletic swimmer, but a strong swimmer. If not, we can only do a private lesson max 2 divers.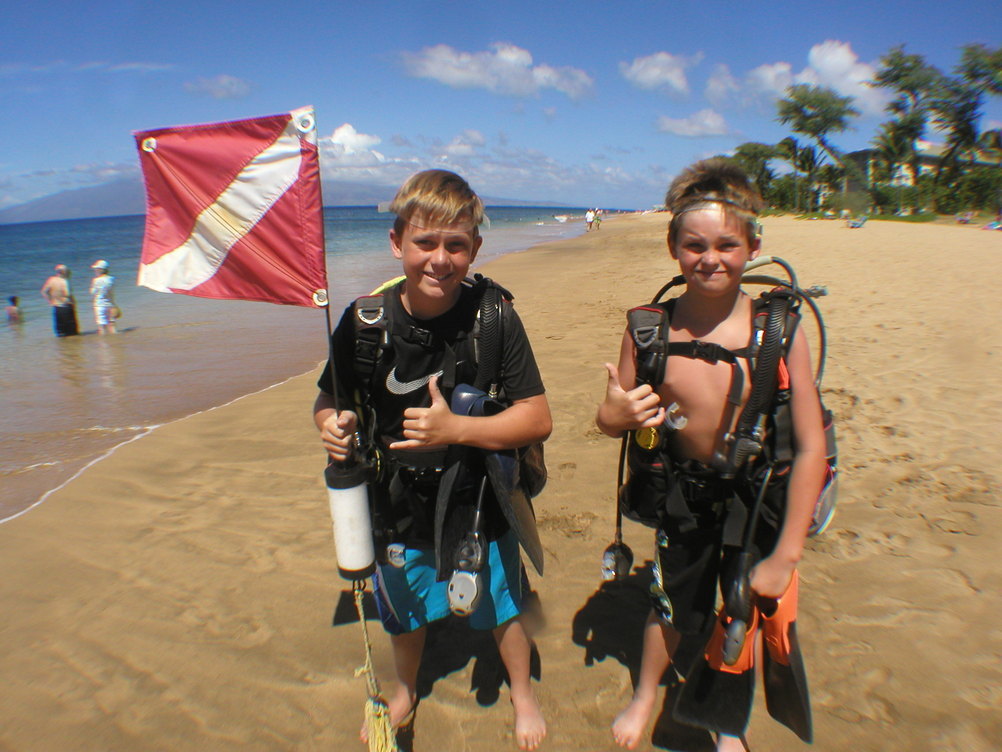 Patient scuba instructor with kids and adults, Ty has a great reputation for working with the kids that want to dive Maui, or are already certified scuba divers.
Kaanapali and Lahaina is where the Scuba Intro Course is done, typically 5 minutes from any of the hotels on the West Side Kaanapali and Lahaina area.